"You're here, supposedly, in a new land full of opportunity, but somehow have gotten trapped in a pretend version of the old country." -Charles Yu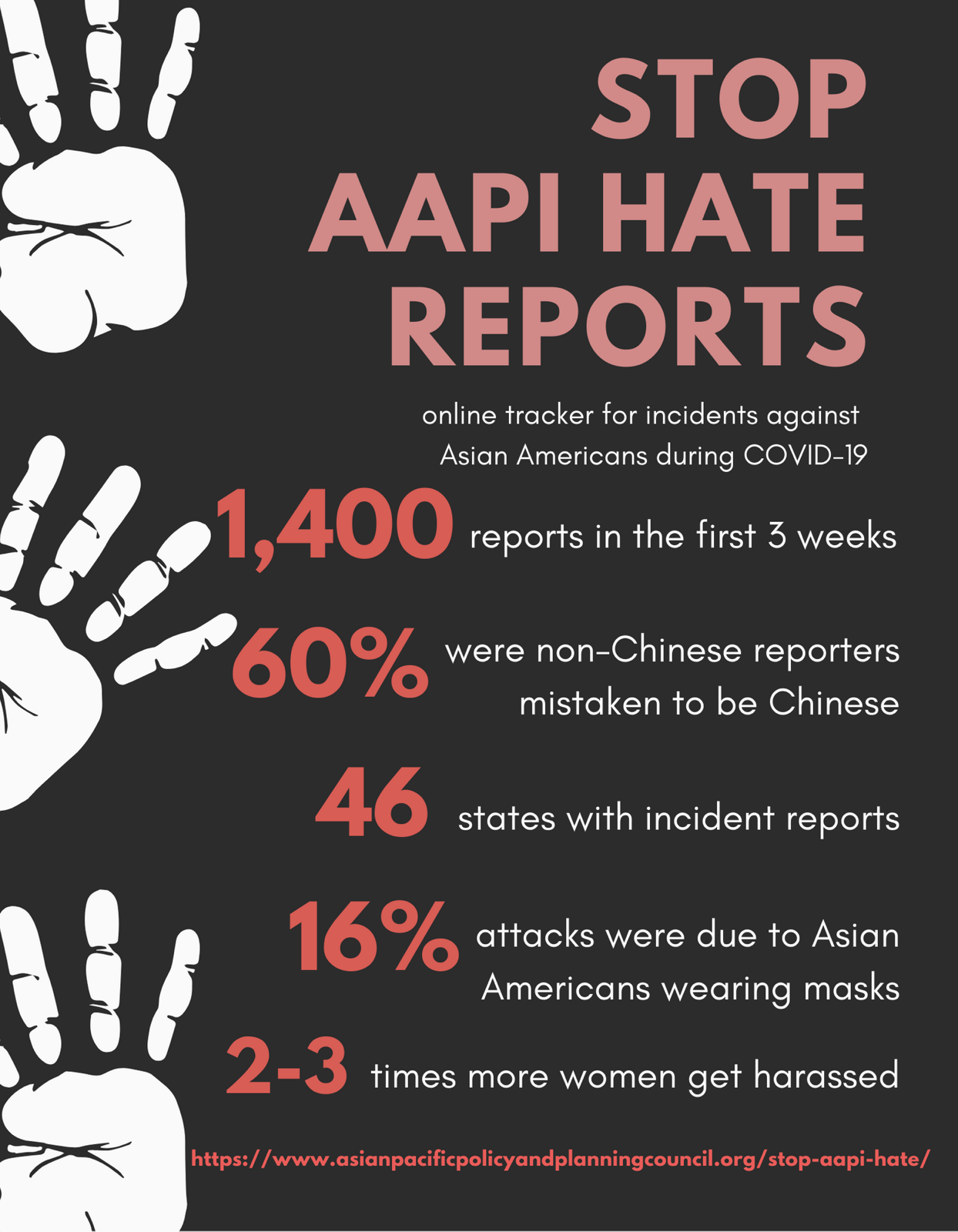 My Personal Interest Statement
History of Asian American Racism in America
Since the mid-19th century, discrimination against Asian Americans has been persistent within America. In the late 1840s, many Chinese workers sought the opportunity to strike it rich after gold was discovered in California. Gold wasn't the only reason Chinese workers immigrated to America. The wide spectrum of jobs that were offered attracted many of these workers. Mines, laundries, ranches, railroads, factories, hotels, kitchens, and even as domestic servants were some of the job opportunities that Chinese workers undertook (Wellborn). However, the majority of the Chinese workers accepted much lower wages than white laborers. As a result of this, companies began to hire more Chinese workers because of their lower wages. This caused a major disagreement between the Chinese and white workers (Wellborn). As the anti-Chinese sentiment grew, riots and attempted lynchings ensued (Wellborn). In 1882, the Chinese Exclusion Act was signed into effect, prohibiting all Chinese workers' immigration. In 1886, this ban was extended for an extra twenty years (Wellborn).
The second occurrence of major discrimination against Asians living in America happened during World War II. In response to the Pearl Harbor bombings, President Franklin D. Roosevelt signed Executive Order 9066 on February 19th, 1942 (Aitken and Robert). All people of Japanese descent living in America were forced into isolated areas of the country. These were known as internment camps. By the end of 1942, ten internment camps had been set up within seven states. In eight months, nearly 112,000 Asians of Japanese descent were forced into internment camps (Aitken and Robert).
For the full historical research essay, feel free to read it here: https://docs.google.com/document/d/1PMp6F4nQEpqfo-2l3_Qwu14nqz0nHVvpSv3IrwZZCC8/edit
The Current Problem
Over the past year, Asian Americans have had to face two conflicting fronts: Covid-19 and racism. With Covid-19 reported as originating from China, many have pointed fingers towards Asian Americans, resulting in the surge of racially targeted incidents. Asian Americans all across America have been "scapegoated, verbally attacked with racial slurs, coughed at, spat on, and physically assaulted" (Chen). According to the Center for the Study of Hate and Extremism at California State University, racist incidents against Asian Americans rose by 150 percent throughout 16 cities in 2020 (Yam). An organization known as Stop AAPI Hate reported 3795 attacks against Asian Americans between March 19, 2020, and February 28, 2021 (StopAAPIHate). In New York City last year, the NYPD stated a 1500% increase in hate crimes against Asian Americans (Lang).
Incidents
On March 13th, 2020, second-generation Korean American Abraham Choi was in a bathroom when a man coughed and spat on him while repeating racist remarks towards Choi (Kambhampaty and Sakaguchi).
On March 9th, 2021, a 75-year-old Asian American man was robbed and thrown onto the ground, leaving him "bleeding on the pavement" (Colorado).
On March 29th, 2021, an elderly 65-year-old Asian American woman was stomped on and verbally abused by a man in Midtown Manhattan while bystanders watched without helping her. She suffered a head contusion and fractured pelvis (Treisman).
Who's Helping
Currently, several organizations and people in power have been working hard to counter Asian American racist incidents across the nation.
High-profile Asian Americans such as actors Daniel Dae Kim and Daniel Wu have been bringing to attention the variety of racist attacks against Asian Americans. They even offered a 25,000 dollar reward for information leading to the arrest of a suspect who beat a 91-year-old Asian American man in Chinatown, Oakland (Lang).
Organizations such as Black Bay Area, Anti-Police Terror Project, the Ella Baker Center for Human Rights, and the Asian Pacific Environmental Network are providing financial and emotional aid for communities all over San Francisco and Oakland (Lang). Without a way to directly stop all Asian American racist incidents, Russell Jeung, a co-founder of Stop AAPI Hate, says that "community efforts and solidarity are the only ways to curb racist attacks" (Lang).
However, there is still much progress to be made because numerous reported and unreported racially targeted incidents still happen every day: "…the number of hate incidents reported represent only a fraction of the number of hate incidents that actually occur" (Rauf et al.).
For my complete Current problem essay go here: https://docs.google.com/document/d/1C7jZTW7_uc45ksFZcmme4KjsNH5wuI4m6pemXnsoZ14/edit
What Can We Do To Help?
Micro Solutions
First, you can donate to various organizations like Asian Americans Advancing Justice – Asian Law Caucus, which is the US's first legal and civil rights organization for Asian Americans.
Secondly, you can volunteer locally within your communities to make it a better and safer place for Asian Americans to live; as Russell Jeung stated above, "community efforts and solidarity are the only ways to curb racist attacks."
Third, if you witness any form of racist attack, immediately report it to local law enforcement, city leaders, or community leaders. You can also report a racially motivated attack at https://stopaapihate.org/.
Macro Solutions
Action on the federal and national level must be taken to deter Asian American racism going forward.
Constantly updating the general public on the local, state, and national level is key to drastically reducing Asian American racism.
Increased media and news coverage will raise greater awareness surrounding Asian American discrimination incidents. As a result, people will become informed on ways to stay safe while supporting the fight against Asian American racism all across the nation.
W O R K S C I T E D:
To view my works cited/consulted page go here: https://docs.google.com/document/d/1xJAhBwWLeUOxUTv7AARTDTW6AS7oN0FU_P_9Uwp4FbI/edit
Comments
In the comments below, please let me know your ideas on the following:
What are your proposed solutions to this ongoing problem in America? 
In what ways, within your community, can you take action against AAPI Hate? 
Finally, feel free to comment on what you thought about my website!