Hi! Welcome to my page! Before continuing, please answer the following poll honestly:
Climate Change affects people across all races, genders, socioeconomic statuses, etc, but the disparity with which climate change affects women compared to men is shockingly evident. Despite this clear phenomenon, many nations do not recognize the importance of empowering women and giving them the power to participate in key negotiations regarding climate change solutions. Across a wide range of nonprofits, research institutes, and government institutions, both international and national, it is agreed that the disparity between how women and men are affected by climate change must be taken into account when it comes to forming constructive policies towards diminishing the effects climate change has and will continue to have around the world.
My name is Jaya Dayal and I am a junior at Lake Highland Preparatory School in Orlando, Florida. I first learned about connections between empowering women and environmental issues like access to clean water through a club I lead at my school, Water for the World, which fundraises to end and raises awareness for the global water crisis. Through taking Climate Change and Global Inequality this semester, my eyes were opened to the true magnitude of the connection between two topics I am very passionate about – empowering women and the environment. I never realized the dramatic impact empowering women could have on mitigating climate change. As I've learned more about the subject matter and what can be done to promote it as a solution to climate change, I've realized that one of the largest issues is the general lack of understanding regarding this connection, which has prevented the support and activism on all levels needed to propel efforts to empower women in general further. At my school, I decided to start the process of educating people about this solution by speaking to my classmates regularly about it, sharing this web page, and giving a Ted Talk to my English class – watch the video below!
---
JOIN ME FOR MY LIVE TED TALK FRIDAY 4/26 from 11:20-11:40 AM EST!
---
If you're interested in learning more about the importance of educating women as a solution to climate change, keep reading to learn about how we can empower women and the effectiveness of doing so to act against climate change. Want to share this at at your school? Check out the Google Drive folder linked at the bottom to receive a collection of videos, presentations, info-graphics and more!
What is climate change…
Global temperatures have been rapidly increasing at a pace far above the natural rate since the industrial revolution. This unnaturally rapid global warming and the changes in ecosystems, weather patterns and more due to it is what we call climate change.
… and why are women hit hardest?
Existing gender inequalities and development gaps ultimately cause climate change to place a greater burden on women. Societal and cultural roles forced upon women around the world, particularly in developing nations, and are largely responsible for the disproportionate burden climate change places on women compared to men. Women are often the primary food producers, responsible for collecting water, and providing the energy resources necessary for the household. The responsibilities are dependent on natural resources threatened by climate change, leaving women struggling to fulfill their basic needs to support their families and fuel their livelihoods. Women are constrained in their responses to natural disasters like floods and cyclones due cultural and governmental restrictions. This contributes the 14x higher likelihood if women or children dying after a natural disaster than men. The development of gender-sensitive climate policies, developed with the female voice, is key, since it would allow these policies to best respond to concrete needs.

---
3 Ways to Empower Women – Project Drawdown
Wilkinson explains the importance of being messengers – about the reality of the climate change crisis, and especially that gender equity is a necessary step to fighting climate change.
Here's a quick summary of the 3 ways to empower women Wilkinson discussed:
1. Educating Girls
Equal quality of education for girls and boys improves lives by opening up a wide array of life-changing opportunities:
2. Family Planning
45% of pregnancies in the United States are unplanned. Access to family planning resources like contraceptives and reproductive health resources around the world is key to controlling population growth. They are a key part to the healthcare resources for which there is a $5.3 billion shortfall in funding across the world. The combination of educating girls and giving access to family planning resources would significantly curb the population growth rate, decreasing carbon emissions on the planet.
3. Women Smallholders
Women smallholders farm on 5 acres or less of land. Women make up an average of 43% of the agricultural labor force and produce 60-80% of the food crops in poorer parts of the world. However, the gender gap that has constrained the rights and resources available to women reliant of agricultural livelihoods means that these farm yields are less than they could and should be.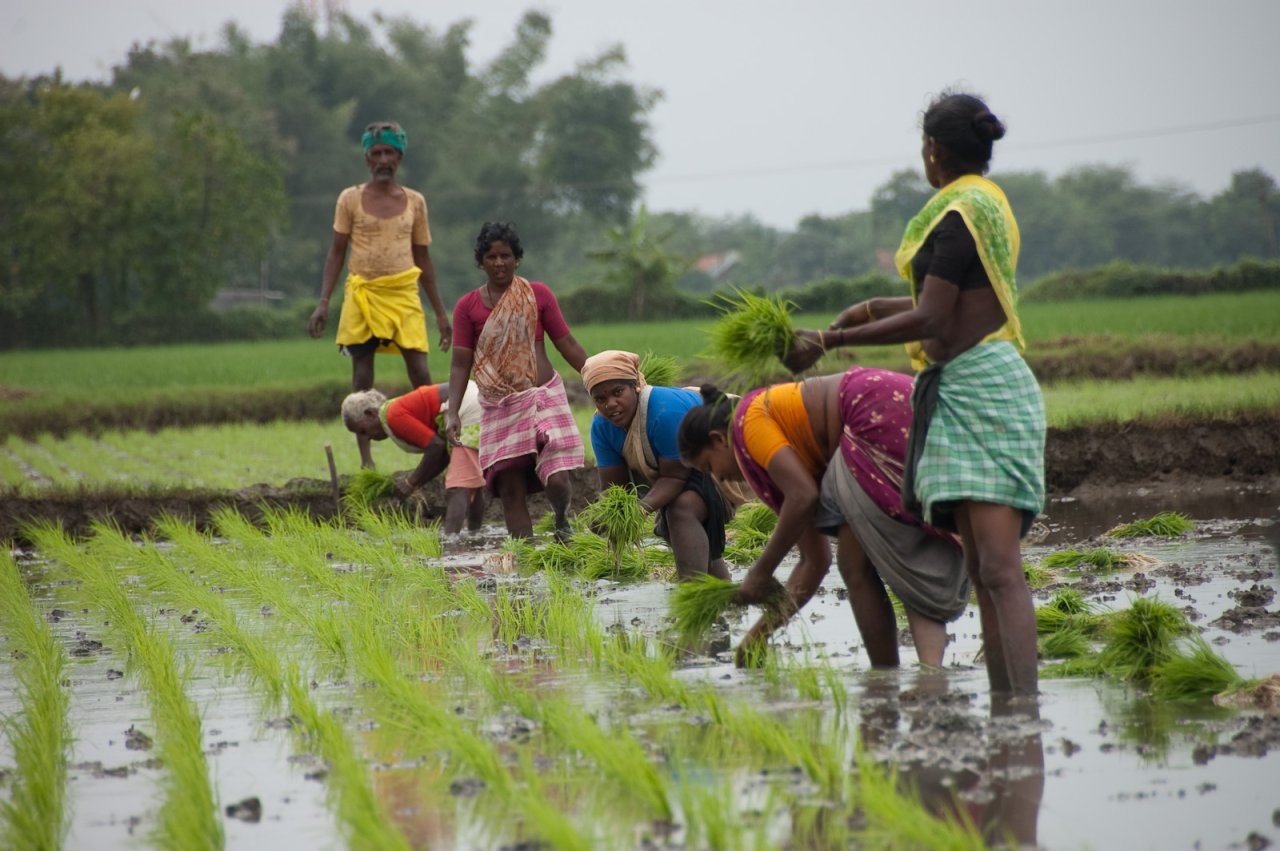 If women smallholders received equal access to productive resources and education about sustainable and effective agricultural practices, farm yields could rise by 20-30%, leaving 100-150 million less people hungry. Additionally, efficiently run agricultural plots reduces deforestation, since land is often cleared to make additional agricultural ground.
---
Timeline of international action against climate change in the past few decades

Image of the 1987 CEDAW conference, photo credit to United Nations (UN)

Image of 1995 Beijing Platform for Action, image credit to UN

Image of 2005 Kyoto Protocol, photo credit to Japan Times

Image of 2012 "Doha Miracle," photo credit to Ministry of Environment

Image of 2014 Lima Gender Program logo, photo credit to WeDo.com
These measures have contributed to the recent shift in leadership positions towards more women in the UN; however, an average of only 32% continues to characterize the proportion of female delegates at the UNFCCC as of 2013, with only 19% as heads of delegation at the conferences.
---
Stories
El Salvador – Julia Antonia Menijeva
El Salvador is one of the most deforested and densely populated nations in Latin America. After a 2011 cyclone that devastated the agricultural industry, Trocaire, a nonprofit working in 20 nations to bring about social justice, and the Salvadorian Ecological Unit (UNES) aided Menijeva in climate change adaptation efforts. The program is designed to encourage men to change their negative opinions of female leadership and voice, and promote increased female participation in community activities and leadership. Julia's community lobbied the San Julian Municipality to develop municipal strategy for climate change adaptation, becoming one of 6 communities part of the Association of United Communities for the Development of San Julian, which advocates for and demands the municipality takes responsibility for the protection of the environment and its people. Women have taken a leading role. They have managed to close a slaughterhouse significantly contributing to river pollution. Julia and her colleagues have become part of the Network for Environmentalists in Action at the national level, participating in mentorship programs with female community leaders and holding fora with representatives of the legislative assembly to lobby for national climate change law.
---
Chile – Celia Reyes
In 2008, drought in the O'Higgins region rendered many rural livelihoods impossible. Changes in weather patterns, temperatures, and rainfall over the past few decades has led to soil degradation, water shortages, and desertification have made it impossible to produce crops. Celia Reyes combined knowledge of her family's needs with exposure to new technologies to develop resilience to climate change on a local level. Reyes and her husband started an organization in their community called Juanat de Vecinors La Aguaga in 1994 aimed at promoting community development, protecting the interests and rights of neighbors, and collaborating with municipal and state authorities. They started the Rainwater Harvest Project, developed by the community in consultation with municipal authorities, INIA, and UNDP drawing on traditional techniques already used by families and technical skills and expertise from partner organizations. Through the project, the significant increases in water supply allowed for successful growing of crops like tomatoes, lettuce, parsley and more. This led to 50% saving in family income and additional income from selling the crops and surplus goods. After a 2010 earthquake, Reyes also participated in the UNDP initiative enabling her transition to solar energy, saving time typically spent collecting energy resources, subsequently increasing economic opportunities. Reyes is an example of how access to resources, knowledge, and training allows women to fulfill leadership roles on the local level that can transform communities. Since becoming a local leader for climate change adaptation efforts, Reyes has participated in a 2015 round-table discussion convened by the Mary Robinson Foundation and the UNDP in Santiago on women's participation
---
Kenya – Wangari Maathai and the Green Belt Movement
In 1977, Professor Wangari Maathai founded the Green Belt Movement in Kenya in response to the needs of local women and widespread poverty. Behind the environmental problems of deforestation, food insecurity, and more contributing to the hardships women face are bigger issues of disenfranchisement and disempowerment of women in discord with traditional cultural ideals. The movement encourages women to plant trees and engage in more environmentally-friendly practices in general, even providing compensation for each seedling planted. It included seminars in environmental education and civic engagement to encourage men and especially women to examine why they lacked agency to make a political, economic, and environmental impact in their communities and learn how to meaningfully contribute. The movement has advocated for greater democratic rights, the promotion of women through activism, and fought against further environmental destruction like deforestation. Although it started in Nairobi, Kenya, the Green Belt Movement has expanded to campaign for addressing climate change internationally, work to preserve rainforests in the Congo, and has partnered with the United Nations Environment Program (UNEP) in its Billion Tree Campaign. Maathai is an example of how educated, empowered women empower women, and are capable of starting national movements like the Green Belt Movement who can make a significant impact internationally.
---
Interested in hearing some more perspectives on empowering women and climate change?
Listen to the podcast below featuring interviews from Ayushi Trivedi, Gender Expert at the World Resources Institute, Anne and Hellen from Thirst Project, and April Wanex, teacher at Lake Highland Preparatory School!
https://drive.google.com/file/d/1pfgObkXqdiY1PTp61zjf-bAytT0Y7Juh/view?usp=sharing
---
Empowering women can change the world – it means less violence committed against women who no longer are put in vulnerable positions when they walk for hours each day to collect resources like water that their families need. It means the installment of more environmentally-friendly technology and practices like solar panels and rainwater harvesting. It means the construction of policy regarding climate change that is both tailored to the needs of the people and effective.
The first step that we as individuals and smaller communities can take to make this happen is to be messengers and educate people on why it's so important to empower women if we want to effectively fight the biggest threat to our planet, climate change.
It doesn't matter that many of us our students – we still have just as much power to make an impact against climate change, including by empowering women. Being messengers means that we have the chance to reach both the policymakers of today and those of tomorrow – us – to make sure we all understand how important it is to empower women, outside of the fact it is a basic human right, if we want to save our planet.
Check out the Google Drive folder linked below! Use this educational kit or starter pack on women's empowerment as a solution to climate change to share this message with your communities!
https://drive.google.com/drive/folders/1Rbd_RJ6oSzyALzLwZ55RIyy_SmYM7147?usp=sharing
Any resources or comments you'd like to share? Add them to this padlet:
Questions? Want to discuss this further? Contact me below:
---
Works Cited
https://docs.google.com/document/d/1I7_bKPuNp-zUexwNXgSba23alwzXKfXxZm3_1H1TVUg/edit?usp=sharing