"You sort of just zone out into your artwork and it just released the block in my head, so I was able to do it. For the first time in 23 years, I could actually talk about stuff openly to, like, anybody because it unlocked it. It's just amazing. It allowed me to put 23 years of PTSD in one place that has never happened before." (Walker)

This quote is obtained from a service member who suffered from severe PTSD, encapsulating the life-changing experience of art therapy sessions at the nation's largest military medical center, Walter Reed.
What you need to know
What is art therapy?
Art therapy is a therapeutic method used in psychology involving the use of creative and artistic techniques to help people express themselves and examine the psychological and emotional undertones in their art (Psychology Today). This therapeutic technique was founded in the mid-forties by psychologist Margaret Maumburh who used art to help patients release unconscious thoughts by encouraging free association ("The History of Art Therapy"). Art therapy has proven to be effective and calming, however, it is a shame that misconceptions about this method have caused people to resent it as a professional therapy method.
Misconceptions of art therapy:
Art therapy is just for children
I should know how to draw to participate in art therapy
Art therapists do not do anything while I am drawing
Art therapy is the same as art classes
Creating art is the only thing you do during the session
(Latel)
Stigma against mental disorders and therapy in Hong Kong
Aside from the overall lack of understanding of art therapy, the stigma of mental illness and therapy in Hong Kong also increases the prejudice against this psychology method. A local study found that one in six people in Hong Kong suffer from mental health issues, mostly due to academic pressure students have and long working hours leading to poor qualities of life among Hong Kongers ("Hong Kong Must Unite in Removing Mental Health Stigma"). Knowing this shockingly high ratio, it is concerning that people in Hong Kong are refusing or not able to receive the professional help they need due to the lack of government attention in this area of health.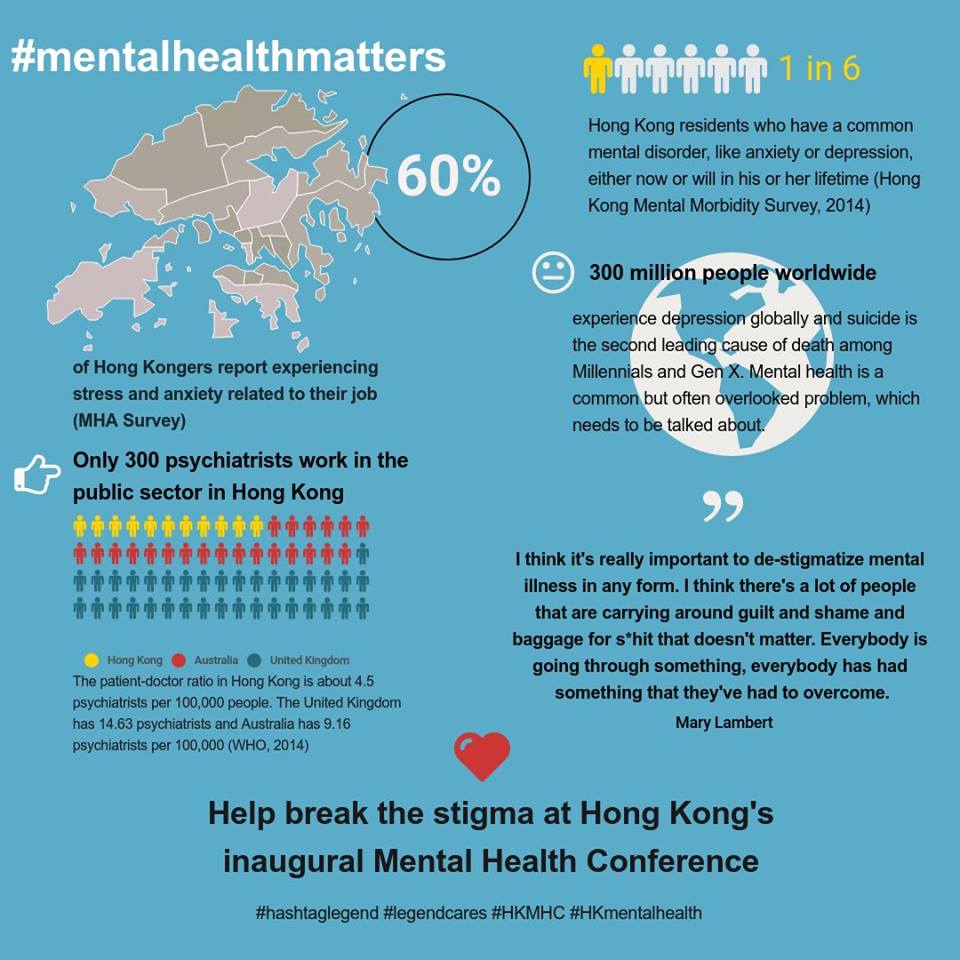 Taking Action
My project seeks to raise awareness for and reduce the stigma of art therapy in Hong Kong. At the same time, I hope to be able to help those who are affected by mental disorders, or friends and family who would like to support them by understanding the benefits of art therapy and how it heals the wounds of mental disorders.
What I will do:
1. Understanding and addressing the psychology behind stigmas against mental disorders and art therapy in Hong Kong through interviews, surveys, and extensive research
The first step to reducing the stigma of mental disorders and art therapy in Hong Kong is to understand the perspectives and concerns of those in my community. By doing so, I can have a more holistic understanding of the issue and will then be able to address it better. I have and will continue to conduct interviews with psychologists in the community to understand the problem better. I will also attend seminars hosted by the Hong Kong Association of Art Therapy to gain further understanding on this topic.
(HKAAT)
2. Create artworks to shed a more positive light on mental disorders to increase the understanding of different types of mental disorder in our community
Creating artworks about mental disorders will allow me to use art to understand disorders, which will give me a sense of the art therapy experience. Additionally, looking at these artworks can help those in my community have a different perspective on various disorders as well as learn more about them before forming an opinion and prejudice against them.
(Source Candidate)
3. Use social media to promote my artwork on mental disorders as well as introducing art therapy and its benefits
Creating artworks about mental disorders will not be helpful unless it is seen by the public. I will use my social media and websites to promote them.
(Irish Times)
4. Spread awareness for art therapy by holding art therapy sessions in the clubs I am a part of
The most effective way of understanding something is to try it firsthand. This is why I will be holding art therapy sessions for people to give it a try before forming an opinion on it. Since I am the director and founder of a few clubs that support children with mental disorders, I can work with them as well as the organizations they are working with to better understand art therapy.
(Amandor)
With Your Support

We can break the stigma against those who are suffering from mental disorders by being there for people who need your support the most. To make this happen, it is greatly appreciated if you could kindly:

Suggest art therapy to a friend or family, or even try it out yourself! It can help reduce stress significantly
Encourage those dealing with mental issues to take chances and heal through the process of self-discovery which art therapy can offer.
To further understand my local community and the thinking behind the mental issue stigma, your thoughts are a potent ingredient for ensuring the impact of my project.


In the comment below, please provide feedback regarding the questions below:
How open are you to listen or talk to someone about what you may be dealing with?
If someone around you is dealing with mental issues, how will you try to help them or encourage them to seek help?
What are your thoughts regarding art therapy and its method of helping those dealing with mental issues?
You are also welcome to ask any questions or give feedback on the information above!