Teenagers spend seven hours per day in front of a device (CNN). Dr. Melissa G. Hunt, a psychology professor at the University of Pennsylvania, has conducted research that links social media overuse to feelings of depression (Journal of Social and Critical Psychology). In Hunt's study, some participants reduced their social media use to 10 minutes per day, while others maintained their level of social media use. Those who reduced their usual social media use felt happier and more connected to others. Given this research, it should come as no surprise that a 2017 survey found that starting in 2012, the year cell phones became popular among teens, rates of depression and suicide both increased (NPR). Today, approximately 20% of high school students suffer from a mental health problem (Teen Mental Health.org). Given how commonplace smartphones are and the data on the effects of technology on mental health, there is no doubt that excessive social media use contributes to this alarming statistic.
In our class, Psychology of Social Change, we researched the psychological reasons about why students overuse social media. One reason we found is because cell phone usage can become a habit. According to psychologist Wendy Wood, habits are "learned associations between responses and features of performance contexts (locations, preceding actions, etc). Once habits have formed, perception of the context cue brings the response to mind" (USC). Habits have three aspects. The first aspect, mentioned by Wood, is the cue, a signal to the brain caused by a sense (a smell, sound, etc) or caused by feelings of stress or anger. Many students' cue to check social media could be something as simple as sitting down on the bus or waiting in the lunch line. The second aspect of a habit is the routine. In the case of social media, the routine is as simple as someone taking out their phone and checking social media for notifications. The third component of habits is the reward. In regards to social media, the reward is a dopamine hit that is caused by seeing that someone liked a post or when someone "friends" us.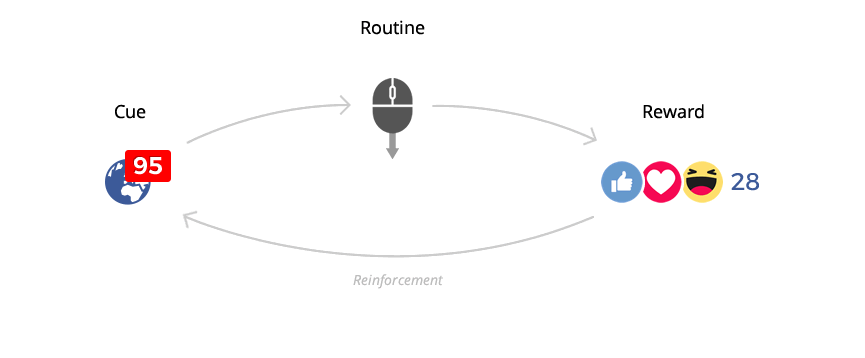 Another psychological reason students spend time on social media is because it can be addicting. Addiction means that someone has "a strong inclination to do, use or indulge something repeatedly" (Merriam-Webster). Just like drugs or alcohol, social media use can result in a release of dopamine by the body (Harvard). If our body has not gotten the usual dopamine hit, it craves the dopamine, leading students to have a strong inclination to get back on social media in order to indulge this craving. This leads many to desire that same feeling. Social media's addictiveness poses a large problem for people of all ages, but specifically high school students amidst a pandemic, during which 63% of parents reported that their children have been using social media more since the pandemic began (Chicago Children's Hospital). So, the more time we spend on our phones and social media, the more we crave dopamine when away from our devices. Accordingly, the more time we spend away from social media, the more we desire that dopamine hit.
How can we address the problem using psychological principles?
One way to help students break a habit is by adding friction to the repeat behavior. Friction causes people to consider the effects of their behavior and thus makes the behavior less automatic. Psychologists David Neal and Wendy Wood did a study to find a way to break the habit of eating popcorn while in a movie theater. They created two groups; in one, the people ate popcorn like normal, and in the second group, people were forced to eat with their non-dominant hand.
The people eating with their non-dominant hand ate a significantly smaller amount of popcorn. In connection to social media, there are apps—like Moment—that can be used which set timers that send notifications after someone has been using social media for a specified period of time. Likewise, there are also apps that make it take more time to open up an app. Eating popcorn with their non-dominant hand made some participants contemplate their decisions and it also interrupted the automaticity of the habit. So, when social media apps beep, or the app takes a long time to load, people are compelled to think about what they are doing and then decide to choose an alternate behavior.
Another way to help people break a habit is by using a commitment device,
which are plans that eliminate future decisions. That way, people cannot decide later to ignore their goals. For this example, someone can download an app—like Flipd or Freedom—that locks social media apps for a given time, making it impossible for a person to access social media later. The multiple apps previously mentioned are key in making this commitment device work.
A third way to break a habit is based on the psychological idea of implementation intentions, which are if/then plans. By setting a plan, we are more likely to actually follow our goals. So, if students create an implementation intention in regard to social media—for example, if a student has a chance to pull out their phone, then they will then decide not to use it. Even though this seems incredibly simple, it will lead students to limit their usage because it sets a goal.
As mentioned previously, social media can become an addiction just like certain drugs or alcohol. One way that alcoholics work to beat their addiction is through attaining social support from Alcoholics Anonymous (AA) meetings. These meetings give alcoholics a support group in their quest for sobriety. Likewise, social support—be it through parents, friends, or other adults—is key to aiding students in breaking their social media addiction.
Our Solution
We suggest that one week, during advisory, we focus on educating students on the harms of social media and encourage students to utilize different apps that add friction to social media use.
Convincing students to download the previously mentioned apps, which are also examples of commitment devices, should aid students in limiting their social media usage. For example, an alcoholic might take a drug that makes them sick if they drink alcohol (Harvard). In our case, if someone sets a time limit now, they will be more likely to stick to it in the future.
Lastly, as mentioned earlier, social support is key to breaking an addiction. So, in advisory, the week after this program is implemented, the group should reconvene and discuss how using the apps went. This social support is necessary to help students break their addiction to social media.
Questions for you:
What are some effective ways you have used to curb your social media usage?
Do you have any experience using these apps? If so, do you find them helpful?