Summary Of The Problem
When the ever given was stuck, there were more than 300 ships waiting to pass the canal on either side of the ship and due to there being a ship stuck in the middle of the canal, they weren't able to pass, hence wasting a lot of time, which lead to an abundant number of economic problems, for example, a sudden increase in all the prices i.e. fuel costs, costs of goods etc.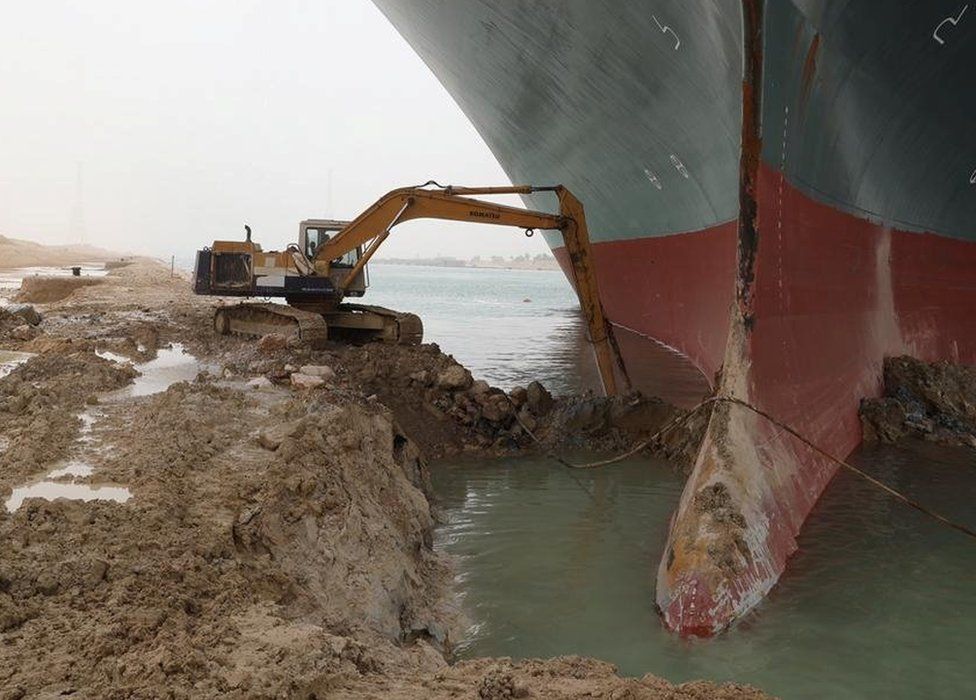 Egypt had to make a big decision to choose between 2 options, which were to keep dredging the sand and with the use of powerful tuck boats try and move it a little so it's in the most ideal position for the high tide to help the ship get unstuck, and the second option was to start unloading the containers on the ship and when it's back on track they would put the load back on it, which would've taken a minimum of three weeks. They also had to keep in mind how they would lose 14-15 million dollars per day the canal didn't work. So that will change the payoff matrix by a ton, but both of the options would've made the Suez canal run smoothly again but at the same time they were losing some of their valuables. Therefore, I want to try and solve this problem using game theory and find the most optimal option for Egypt so that no other ship gets stuck in the canal or even if a ship ever gets stuck in the canal what would they do to minimize their loss. I will use my own numbers for payoffs, they might not be accurate but will surely be reasonable.
An Economic Analysis:

Here on the right, you can see a chart that shows how many ships were affected because of the Ever given being stuck in the canal. There were 9.6 billion dollars of goods per day that was stuck because of this furthermore, Chairman Mr. Osama Rabie was losing 14 million – 15 million dollars each day because of the blockade. And the 12% of the global trade became 8% in only a matter of hours. All businesses were losing money as their ships had to go around Africa that took 10 days more, they had to pay extra for fuel and maintenance.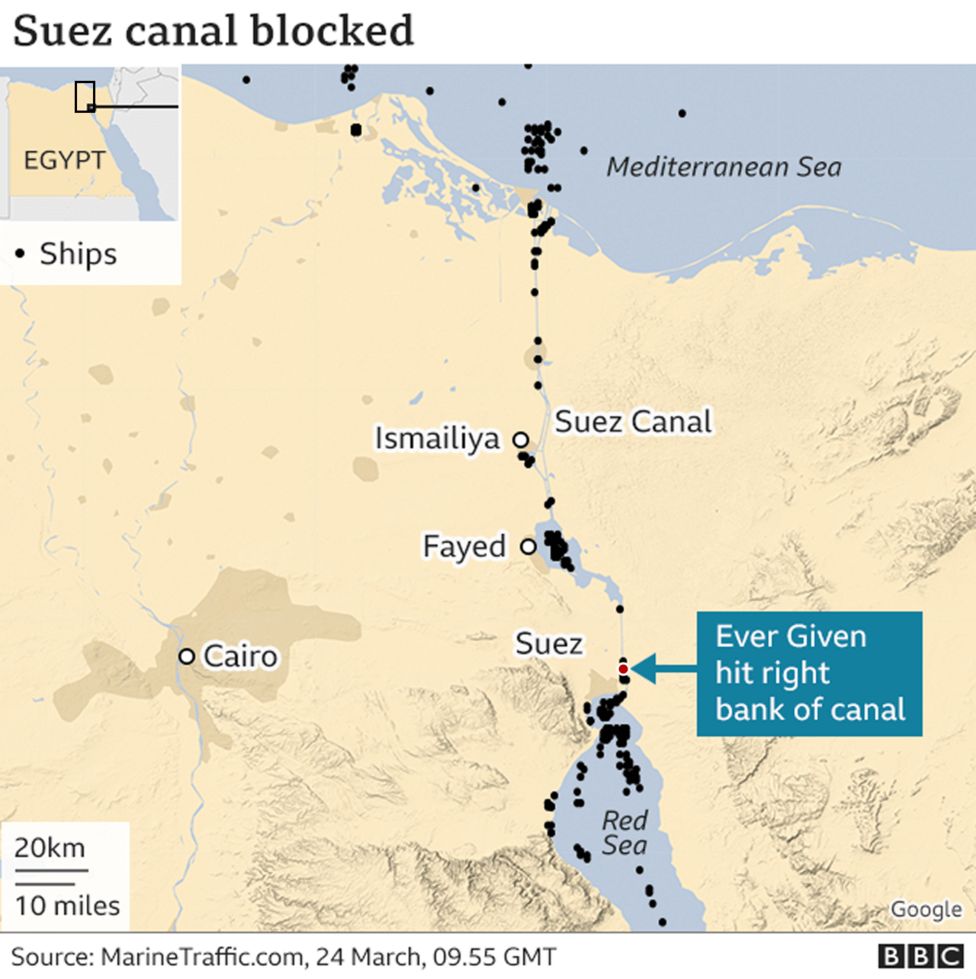 Here on the left you can see where the Ever Given got stuck and all the dots represent a certain amount of ships.
The players and their strategies.
Our main player in this problem is Egypt, who have 3 options to choose from so that no other ship ever gets stuck in the canal and here are their outcomes.
Closing the Canal- They would get $0 every year and lose about $6 billion dollars per year.

Explanation- They would get $0 per year as no one would use their canal, and they would lose $6 billion per year because if we look at this from an economical perspective they were making $6 billion before, and now if they stop they aren't making anything, so their final payoff here would be -$6 billion.

Making another Canal- In which they would lose $8 billion dollars once, but make about $12 billion per year.


Explanation- They would lose 8 billion dollars in the making of a new canal, as the first time it was built it costed 375 million dollars, which in the 21st century is approximately 8 billion dollars, and because of that they would have 2 times the space, therefore, two times the ships allowed in the canal at once which also means double the annual income, therefore making 12 billion dollars per year.



Making the canal deeper and wider- Here they would lose $4 billion dollars once, but make about 7 billion dollars per year.


This scenario is kind of similar to the one before, but here they only lose 4 billion dollars to widen and deepen the canal and doing that would increase their annual income to approximately 7 billion dollars.

Our second player is the charterers who are the ship managers etc.

Some background on this. The Suez canal charges about $100,000 for a normal dry bulk carrier ship and charterers' rent this ship for about $9000 a day. Fuel cost for a normal cargo ship costs about $320 per tonne, and 1 ship needs about 33 tons of fuel per day, therefore spending about $10,560 per day. Therefore to pass through the canal the ship's total price is $5280 just for fuel (As we know need fuel for about 12 hours) + $100,000 + $4500 (9000 per day, but we only need it for 12 hours so it's 4500) therefore, the total cost to go through the Suez canal is $109,780. Which finally would cost $1,317,360 per year.
If the canal closes then the charterers lose about $105,600 + $90,000 = $195,600 for one trip, and if this went on for a year they would lose a total of $2,347,200, and they would only gain 0.

They would lose $195,000 as they would have to go around Africa which takes about 10 more days. So if we take the price of fuel for 1 day and times it by 10, we get the price of fuel for ten days, and we do the same thing for charterers' rent cost. We calculate their yearly loss by multiplying $195,600 with 12 which would give us $2,347,200.



If there is another canal that is made, then the charterers would still make $0 and lose 2,347,200 per year.
They would lose as much as before, as they would have the same amount of ships as before. To explain this better, here is a scenario-

You are going to school, you go by 1 road that costs you $10 a trip if the government decides to make another road to address the congestion problem, would you use both of the roads? As in, use the road twice to get to school. See it just doesn't make sense.


If the canal is made deeper and wider then they would lose the same amount which is $2,347,200 and still make $0 per year.

This makes sense because if the canal becomes deeper and wider, they would still send the same amount of ships. To understand this better please read the highlighted example in the scenario above.
STRATEGIES OF THE PLAYERS
Egypt-
To just shut down the canal- Strategy A
To make a new canal- Strategy B
Digging the canal to make it wider and deeper- Strategy C
Charterers-
Go around Africa- Strategy D
Cooperate with Egypt- Strategy E
THE MATRIX OF THE GAME
IN CONCLUSION
The best option for Egypt to make sure that no other ship ever gets stuck in the Canal is to make a new canal that would increase their profits and minimize the loss of the charterers.
Feedback Request-
Please just answer this survey it takes 2 seconds- https://linkto.run/p/8XFDL5B8
Do you know some other stuff they could do that could've also been an option?
If you don't know what game theory is How would you try and solve this problem?
Also, please don't criticize the ship Captain and take some time out of your day to play this game- https://edition.cnn.com/interactive/2021/03/cnnix-steership/ and tell me how you do on the comments.
Please rate my project out of 10, and leave some feedback. I love to hear from people about what I could've improved. Thank you and have a great day.
Works Cited
https://docs.google.com/document/d/1DjifQVz_WpqonutuPCM8QXhftfgGRA-uvYEJ3Y2uxrk/edit?usp=sharing