What you need to know:
According to Pew Research Center,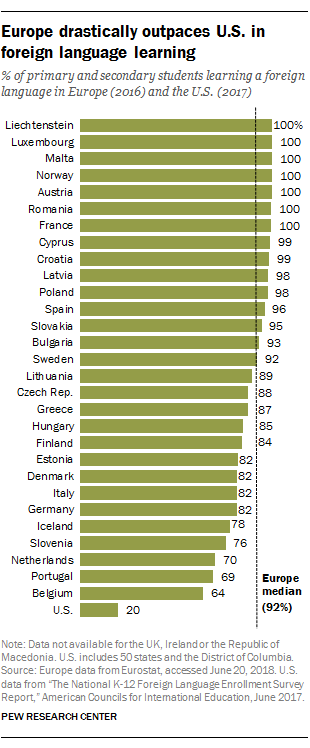 foreign language study is ubiquitous throughout Europe, with a median of 92% of high school students taking a foreign language class, while only 20% of high school students in the United States take a foreign language class. Enrollment in college level foreign language classes has been on the decline since 1965, according to the Modern Language Association of America.
English is the Lingua Franca of our time. Lingua Franca is a term used to describe a common second language that allows two people who speak different languages to communicate. It's common applications include international business, aviation, research, politics, etc. English's emergence as a Lingua Franca has given native English speakers speakers a huge advantage. Native English speakers don't necessarily have to learn a second language to do business on an international level, unlike almost everyone else. This has led some to believe that foreign language study is therefore not as important or valuable for native English speakers.
The information age has brought many new, exciting technologies to our fingertips. One of these new technologies is that of translator apps. These apps allow for automatic translation of one language to another, sometimes even in real time. These apps are not always accurate, however. An article in Express details the results of Google's tests of its own app, Google Translate. Google had human judges rate the accuracy of translations on a scale from 0 to 6. English to Spanish translations scored 5.43 on average, while Chinese to English translations scored 4.3 on average. This is most likely because Chinese is a highly contextual language when compared to English, which makes it much harder for a computer to translate out of context.
My Research
I set out to see whether or not my peers and teachers thought that these factors in any way diminished the value of learning a language. 
I began by creating an online survey. In this survey I asked various questions about individual experiences in language study, how useful of a skill they thought it was, and whether or not they thought language study is obsolete in the modern world. I then sent this list out to the rest of the senior class at my school. On a scale of 1 to 5 (5 being the highest), the importance of language study was rated a 3.6 on average. 70% of students said that they would continue to study foreign languages after high school, and 80% saw themselves using their foreign language skills after high school. 100% of students surveyed said they did not think foreign language study is obsolescent or will be made so in the near future.
Here is the survey if you would like to fill it out.
The second thing I did was interview two of my teachers. Both were french teachers, one former. I asked them three questions: "what do you think the value or importance of language study is", "do you think translator apps like google translate will ever make language study obsolete", and "what do you think the cultural value of a language is."
There were many reasons they believed language study was valuable. The main reason was that, even though English is used as a Lingua Franca, it is still very valuable to know a language. Certain nuances may be lost in translation, or there may be an error in translation.
The same applies to translators too, nuances or contextual information is often lost which can mess up translation. This is especially true in context heavy languages, in which the meaning of a phrase can differ wildly based on the context. While translators might be useful in the short run, they will never really work at a higher level, as you can't connect with someone in the same way.
Language is very linked to culture and vice versa. A language can reflect a lot about a culture, from what concepts a language has a word for, to the idioms and phrases of that language. The two are practically inseparable. Many cultures are also very proud and defensive of their language, as it is a huge part of their culture. France, for example, is very proud of their language, and they even have a council called L'Académie Française, who's job it is to come up with new French words for foreign concepts, so that the language does not get over-saturated with loan words (a problem Japanese suffers from.) So, while it may be beneficial in the long run, it is very unlikely that we will ever adopt a universal language, simply because we'd be losing one of the fundamental pillars of our different cultures.
For this reason alone, I believe that language study will always remain relevant. As one of my teachers put it "language is culture and culture is language."
My Response: why one should learn a language
There are a plethora of reasons why one should begin studying a language. It makes you a better candidate for a job or position, however I don't think this is all that great of a reason to learn a language. I'd rather you think of language study as a window into a culture. You learn so much about a culture by studying their language, not to mention the fact that you can visit that place and communicate there, granted you've studied it long enough. I believe that studying a language is truly the best way to understand a culture, based on my personal experience and what others have told me.
Not to mention, learning language is fun. Sure its not all that fun at the beginning. It can be very frustrating and confusing at times, but, the moment you are first able to hold a conversation in that language, you will feel an indescribable feeling of happiness and satisfaction. It is a very gratifying process.
Learning language is not difficult, its just something you have to take day by day. You won't always feel like you are improving, but you are. Its like going to the gym, its not instant gratification, it will take a while. That being said, whatever language you take, I'm sure you'll be glad you took it in the end.
Works Cited:
Here is the link to my works cited page.
Comments:
I would love hearing your feedback! Do you think language study is valuable? Why or why not? What language(s) have you studied? Why or why not? If you have any interesting stories about language study I'd love to hear! Also, I'd really appreciate it if you could take the time to fill out the survey I linked above!